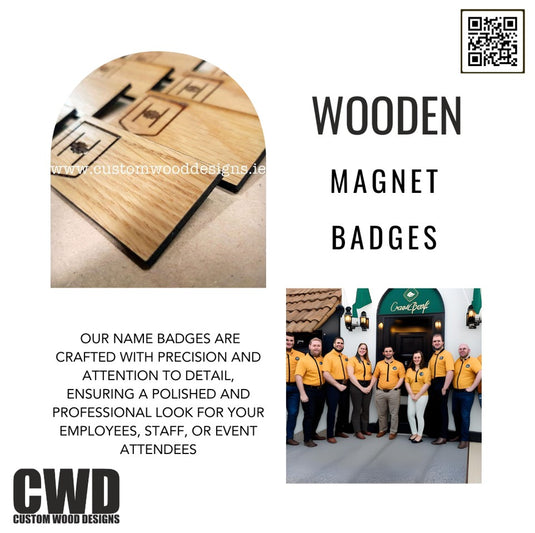 Perfect for
Corporate Offices: Companies looking to upgrade their branding or seeking eco-friendly alternatives .
Event Organizers: Event planners looking for unique, memorable attendee badges for conferences, trade shows, seminars, and more.
Hotels and Hospitality: High-end hotels, B&Bs, and resorts can utilize wooden badges for staff members .
Restaurants and Cafes: From casual coffee shops to fine dining restaurants, wooden badges can reflect an establishment's commitment to quality and natural ingredients.
Educational Institutions: Schools and universities may want to provide staff and faculty with distinctive wooden badges to enhance a sense of community and prestige.
Non-Profit Organizations
Retail Stores.
Environmental Agencies .
Custom Wood Designs: The Premier Source for Magnetic Wooden Badges
Welcome to Custom Wood Designs, where we specialize in crafting unique, high-quality magnetic wooden badges. Whether for corporate events, promotional giveaways, or everyday professional use, our wooden badges offer a unique, eye-catching alternative to the typical plastic options.
Customize Your Badge: Pin Back or Magnetic, Your Choice
Our badges aren't just about looks - they're also about choice. We provide the flexibility to choose between a traditional pin back or a modern magnetic back for your wooden badge. Plus, with our custom designs, your badge will be as unique as your brand
Crafted with Precision: Combining Advanced Technology and Traditional Craftsmanship
At Custom Wood Designs, we blend cutting-edge technology and time-honoured craftsmanship to create your magnetic wooden badges. Each piece is expertly shaped using state-of-the-art laser and CNC technology, while preserving the traditional charm of wooden designs.
Don't Stick with Plastic - Upgrade to Custom Magnetic Wooden Badges"
Stuck in the rut with plastic badges? Custom Wood Designs has the perfect upgrade for you!
Why Magnetic Badges
No Damage to Clothing: Traditional pin-backed badges can sometimes damage or tear clothes, especially finer fabrics. Magnetic backs eliminate this issue, attaching firmly without the need for piercing the fabric.
Easy to Attach and Remove: Magnetic badges are easy to attach and remove, making them perfect for situations where people might need to frequently remove their badges, such as security checks.
Strong and Secure: Magnetic backs are generally strong and secure, and they are less likely to accidentally fall off or get lost during a busy day.
Comfortable to Wear: Because they don't require a pin, magnetic badges are typically more comfortable to wear.
Professional Appearance: Magnetic badges provide a clean, streamlined look, enhancing the professional appearance of employees or team members. They don't distract from the wearer's clothing or the overall aesthetics of their outfit.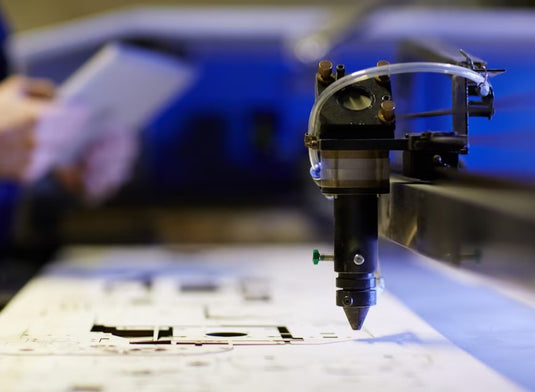 Customizable Shape
At Custom Wood Designs, your preferences are our priority. We offer magnetic wooden badges in custom shapes, perfectly tailored to match your vision. Our advanced laser and CNC technology allow us to craft traditional or unique designs with ease and precision.
Unsure about the design? No worries! Our talented team is here to transform your ideas into reality.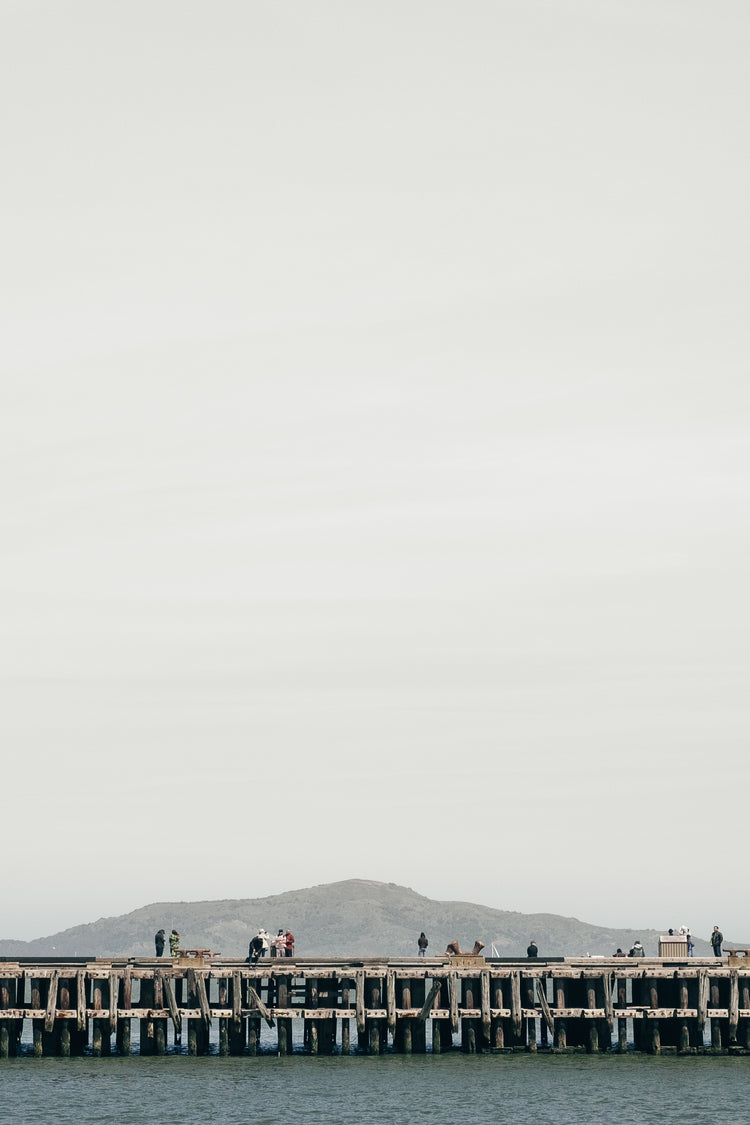 We Deliver Elegance Worldwide: Shipping Our Magnetic Wooden Badges Globally
No matter where you are in the world, you can experience the charm of our magnetic wooden badges. With our efficient worldwide shipping, your badges will reach your doorstep in perfect condition, ready to make a lasting impression.
Ready to redefine your brand with our magnetic wooden badges?
Get in touch with us at info@customwooddesigns.ie or call us on 00353 1 2573871. Let's start crafting something unique together!
Frequently Asked Questions (FAQ)
What types of wood do you use for your magnetic wooden badges?
We use high-quality veneer, bamboo, and other selected woods for our badges, each chosen for their unique aesthetic and durability.
Can I provide my own design for the badge?
Absolutely. We pride ourselves on our ability to work with our customers' designs. Simply send us your design and we will bring it to life with our state-of-the-art laser and CNC technology.
What if I don't have a design?
No problem at all. We have an in-house team of talented designers who can help you come up with a design that's perfect for you or your brand.
Can I choose between a pin or magnet back?
Yes, you can. Depending on your preference, we offer both pin and magnetic backs for our badges.
I have a medical condition , a medical device like a pacemaker, can I use your magnetic wooden badges?
If you have a medical condition and using a medical device that could be affected by magnets, we recommend our pin-backed badges.
Do you ship worldwide?
Yes, we do. Custom Wood Designs is proud to offer worldwide shipping, allowing us to deliver our unique wooden badges to customers around the globe.
How to Order from Custom Wood Designs
Choose Your Design: Select from our array of ready-made designs, or provide your own.
Customize Your Badge: Specify the type of wood, shape, and whether you prefer a pin or magnetic back.
Confirm Your Order: Review your design and make any necessary adjustments. Then, confirm your order and proceed to checkout.
Shipping and Delivery: Choose your preferred shipping method. We offer worldwide shipping, so no matter where you are, you can enjoy our unique wooden badges.
Enjoy Your Badges: Upon receiving your order, enjoy the elegance and functionality of your new magnetic wooden badges!
If you have any questions or need assistance with your order, please don't hesitate to contact us at info@customwooddesigns.ie or 00353 1 2573871. Our team is always ready to help you.
No matter where you are in the world, our global shipping services ensure that our environmentally conscious offerings are within your reach. Join us in making a positive impact on the planet by incorporating our Custom Wood Designs into your hospitality space.
Contact Us
Please fill out the form below and we'll get back to you within 24 hours.