NFC
NFC (Near Field Communication) technology provides a seamless and modern method for information sharing, similar to QR Codes but with a distinct touch-based convenience. Here's how Custom Wood Designs might present their new NFC offerings tailored for the hospitality, corporate, and retail sectors.
Introducing NFC-Integrated Wooden Designs for Enhanced Customer Engagement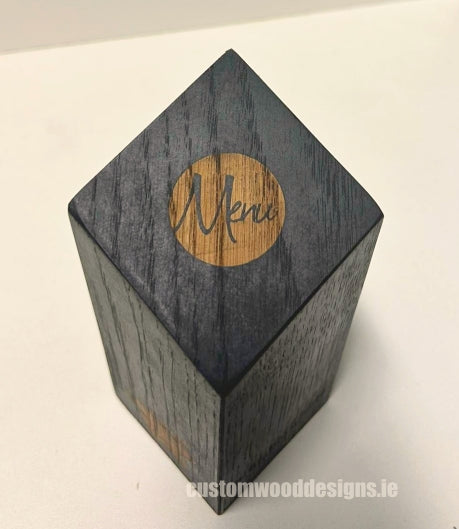 Hospitality Sector
For hotels, restaurants, and cafes, our wooden NFC tags can transform guest experiences. Imagine tap-to-access menus, instant check-in services, or interactive tour maps, all embedded within beautifully crafted wooden key cards, table toppers, or wall art. Enhance the ambiance while offering the pinnacle of convenience and information accessibility.
Key Offerings:
NFC Wooden Room Keys: Offer your guests a unique, eco-friendly room key that can be tapped against their door lock for access.
NFC Menu Blocks: Guests can view your menu with a simple tap of their smartphone against an elegantly crafted wooden block.
Interactive Wooden Signage: Provide instant information about amenities, events, or historical facts through NFC-enabled signs and plaques.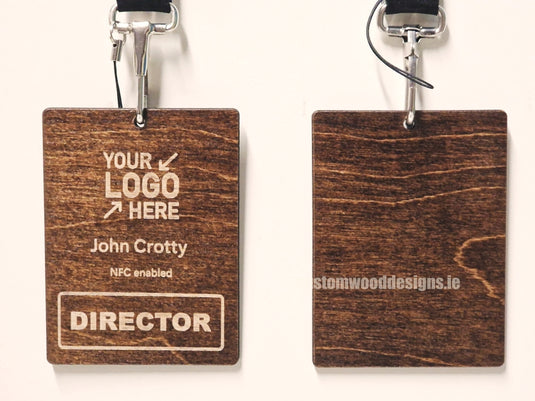 Corporate Sector
NFC wooden name badges, conference room signs, or custom awards that offer more than meets the eye. A tap can hold a business card, link to a professional profile, or even initiate a product demonstration video and more
Key Offerings:
NFC Business Cards: Stand out with a wooden business card that instantly shares your contact information when tapped.
Meeting Room Plaques: Book rooms or access meeting details with a tap of an NFC-enabled sign outside your conference rooms.
Corporate Gifts: Provide unique wooden gifts that can be personalized with a tap, from accessing a personalized message to company media.
Link 👉 NFC Lanyards
Retail Sector
Our NFC wooden tags and displays can transform the shopping experience, offering customers instant access to product details, loyalty programs, or special offers. Integrate these into product displays, price tags, or even as part of the packaging.
Key Offerings:
NFC Product Tags: Enhance the shopping experience with additional product information, tutorials, or related products, accessible with just a tap.
Loyalty Program Tokens: Offer a wooden token that customers can tap to check or redeem loyalty points.
Smart Packaging: Include an NFC chip in your packaging to provide customers with an engaging unboxing experience that might include assembly instructions, product origins, or brand storytelling.
Ready to Integrate NFC into Your Business?
Contact Custom Wood Designs to discuss how we can craft NFC-enabled wooden products tailored to your unique requirements. Elevate your customer engagement with a touch of innovation and the warmth of wood.
Customization and Sustainability
Every NFC wooden product we craft is customizable to fit your brand's aesthetic and message. Just as with our QR codes, sustainability remains a cornerstone of our approach, using responsibly sourced wood and eco-friendly practices.
No matter where you are in the world, our global shipping services ensure that our environmentally conscious offerings are within your reach. Join us in making a positive impact on the planet by incorporating our Custom Wood Designs into your hospitality space.
FAQ NFC Codes on Wood
Q: How does NFC technology work when embedded in wood?
A: NFC chips are small and unobtrusive, which allows them to be easily embedded into wooden items without affecting the aesthetics or the functionality of the wood product. When an NFC-enabled smartphone or device is tapped against the wooden item, it powers the chip via electromagnetic induction, allowing the chip to send information to the device. This process is quick, secure, and doesn't require the chip to have its own power source.
Q: Can the wood block or obstruct the NFC signals?
A: No, the NFC chips used are designed to operate through materials like wood. Our careful design process ensures that the thickness and type of wood are taken into consideration, allowing for optimal functionality without compromising the look or feel of the product.
Q: Who should consider ordering NFC-enabled wooden products?
A: Our NFC-enabled products are ideal for businesses and organizations looking to enhance their customer interaction and engagement. They are perfect for:
Hospitality services aiming to provide unique guest experiences.
Retail stores wanting to offer more interactive product information.
Corporate entities seeking to modernize their business cards, meeting rooms, and promotional gifts.
Event organizers looking to provide innovative and sustainable event passes or informational tokens.
Q: How do your NFC wooden products align with Environmental, Social, and Governance (ESG) standards?
A: At Custom Wood Designs, we are committed to upholding high ESG standards. Our products align with these values in the following ways:
Environmental Stewardship: We source our wood from sustainable forests, and the long life of wooden products means less waste. NFC chips also promote a paperless environment by reducing the need for printed materials.
Social Responsibility: Our products support local economies and provide a non-toxic, safe alternative to plastic-based NFC products, ensuring well-being for both our customers and the environment.
Governance: We follow strict governance practices, ensuring that all materials are ethically sourced and that all aspects of our business are conducted with transparency and integrity.
Q: Are the NFC-enabled wooden products customizable?
A: Yes, absolutely. We can tailor the NFC wooden products to your brand's specific needs, including custom shapes, sizes, engravings, and programming of the NFC chips to link to the digital content of your choice.
Q: How durable are the NFC-enabled wooden products?
A: Wood is a naturally durable material, and when combined with our high-quality NFC chips, these products are designed to last. They can withstand everyday handling, making them a sustainable choice for frequent use in various business settings.
Q: What kind of content can be linked to the NFC chips?
A: The chips can be programmed to link to various types of digital content, including websites, electronic menus, digital business cards, social media pages, promotional videos, event details, and much more. The content can be updated as needed, providing flexibility and ensuring longevity of use.
Q: How can we order NFC-enabled products from Custom Wood Designs?
A: Ordering is simple. Contact us with your project idea at 00353 1 257 3871 or send us an email at info@customwooddesigns.ie. We'll work with you to understand your needs, offer design options, and ensure that the end product perfectly aligns with your branding and customer engagement goals.
Contact Us
Please fill out the form below and we'll get back to you within 24 hours.