Welcome to Custom Wood Designs
We supply & manufacture custom-made branded wood products to the corporate, hospitality & retail sectors.
We offer high-quality, sustainable, and eco-friendly options, helping businesses create lasting impressions and unique brand experiences.
Global Solutions, Local Expertise: Custom Wood Designs
Dublin-based Custom Wood Designs offers globally accessible services. Our team utilizes advanced technologies like CNC cutting and laser engraving, and offers in-house spray and design services to supply bespoke promotional items. With the capability to handle mass production orders with precision and efficiency, we provide consistently high-quality, engraved pieces on a large scale. We work closely with customers to understand their needs, offering tailored solutions that enhance brand visibility and solve operational challenges. Let us turn your vision into reality, no matter where you are.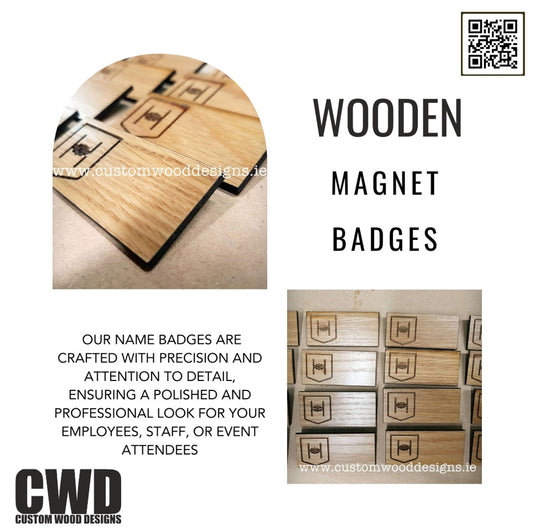 Wooden Badges
Wooden Badges! Our badges are available with your choice of magnetic or pin backs and can be laser engraved in custom sizes, offering a truly personalized touch.
Crafted from high-quality wood, our badges not only add a touch of sophistication but also demonstrate your commitment to eco-friendly practices. The laser engraving technique
Join the sustainable movement today! Enquire to order now at info@customwooddesigns.ie or call 00353 1 2573871. It's time to swap your existing badges for an eco-conscious and long-lasting alternative.
Wooden Badges