Branded Table Tops from Custom Wood Designs
Elevating Restaurants and Hotels with Style and Functionality
Branding and Identity:
Branded table tops provide an excellent opportunity for restaurants and hotels to showcase their unique brand identity.
Customization and Versatility:
With Custom Wood Designs, the possibilities for table top customization are virtually limitless. From different wood species, finishes and stains to various shapes and sizes, UV prints direct to surface offers full colour options, CNC Carved offers sculpting & engraving or the the favorite laser engraved (Burnt / scorched effect). Businesses can choose from a range of options that perfectly align with their desired aesthetic. Whether it's a rustic, farmhouse-style restaurant or a modern and sleek hotel, Custom Wood Designs can create table tops that seamlessly integrate with the overall theme and atmosphere.
Durability and Functionality:
Aside from their visual appeal, table tops from Custom Wood Designs are built to withstand the demands of the hospitality industry. We use high-quality materials and expert craftsmanship to ensure durability and longevity. Our table tops can endure frequent use, spills, and regular cleaning without compromising their integrity due to high quality finishing.
Enhanced Dining Experience:
Branded table tops contribute to an enhanced dining experience for guests. The cohesive and aesthetically pleasing environment created can make customers feel more comfortable and immersed in the atmosphere.
By partnering with Custom Wood Designs for branded table tops, any hospitality establishment can transform their dining spaces into visually captivating and immersive environments.
Black Forge Laser Branded Tables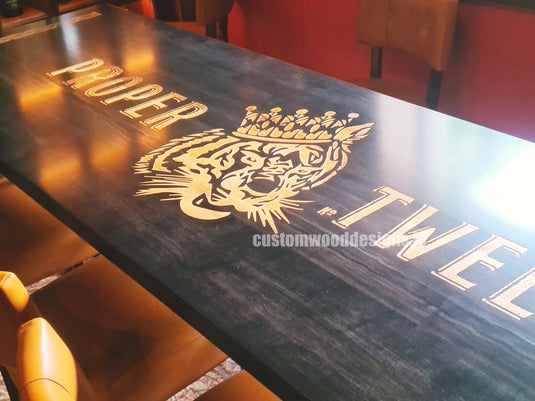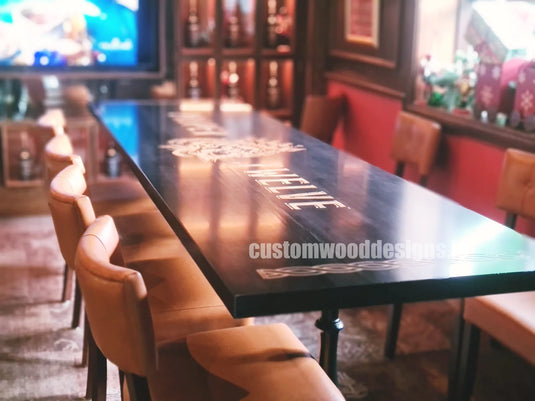 Branded Tabletops for Bars and Pubs
Bars and Pubs
Branded tables and table tops in bars and pubs can contribute to a distinct and inviting ambiance. Custom Wood Designs can incorporate the bar's logo, drink specials, or decorative elements into the design, elevating the overall look and feel of the space. These branded tables can become a focal point, encouraging customers to gather around and enjoy their drinks while reinforcing the brand image.
Custom-Branded Tables and Table Tops
In the world of hotels and resorts, creating a memorable and luxurious experience for guests is paramount. Every detail, from the lobby to the dining areas, contributes to the overall ambiance and impression left on visitors. Custom-branded tables and table tops from Custom Wood Designs offer an exceptional opportunity to add a touch of sophistication and elegance to these hospitality spaces, enhancing the guest experience and reinforcing the brand throughout the property.
How to Order
Ordering custom-branded table tops and tables from Custom Wood Designs is a straightforward process. Here are the steps to place an order:
Contact Custom Wood Designs: Reach out to Custom Wood Designs through their preferred communication channel, such as email or phone. You can find their contact information on their website or business listings.
Consultation and Design Discussion: Explain your requirements and vision to the Custom Wood Designs team. They will guide you through the design process, discussing details such as table dimensions, shape, materials, branding elements, and any specific customization requests.
Design Approval and Quotation: Once the design is finalized, Custom Wood Designs will provide you with a detailed quotation for the custom-branded table tops and tables. The quotation will include pricing, production timelines, and any other relevant information.
Order Confirmation: Review the quotation and ensure it aligns with your budget and requirements. If you are satisfied, confirm your order by providing any necessary information, such as branding materials, logos, or artwork files.
Production and Manufacturing: Custom Wood Designs will begin the production process based on the approved design and specifications. Their team of skilled craftsmen will meticulously create your custom-branded table tops and tables, paying attention to every detail.
Delivery and Installation: Once the production is complete, Custom Wood Designs will arrange for the delivery of the finished products to your location. If required, they can also assist with installation or provide instructions for proper assembly.
Quality Assurance and Customer Satisfaction: Custom Wood Designs takes pride in delivering high-quality products. Upon receiving your custom-branded table tops and tables, inspect them to ensure they meet your expectations. If you have any concerns or issues, contact Custom Wood Designs promptly, and they will address them to your satisfaction.
It's important to note that the ordering process may vary slightly depending on the specific requirements and preferences of each customer. Custom Wood Designs' team of experts will be there to guide you throughout the process, ensuring a seamless and satisfying experience from start to finish.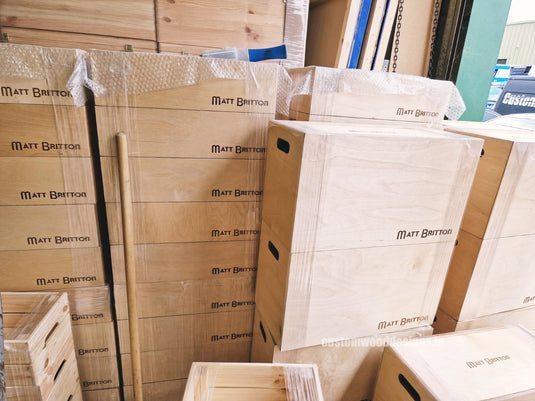 Boxes Crates Baskets
Get Your Crate Together: Custom Boxes, Crates, and Baskets
Boxes & Crates: Custom Wood offers a variety of boxes, crates, and baskets that can be customized to fit your unique needs. Whether you need a custom-branded bottle box for your wine or whiskey business, a durable crate for shipping and storage, or a wicker basket for a rustic touch, Custom Wood has you covered.
Boxes Crates Baskets
Point of Sale
Point of Sale: Custom Wood's point of sale products include branded table tops, wood menus, countertop display units, premium display units, and rustic freestanding displays. These products are designed to get your brand noticed and drive sales, with attractive and functional designs that encourage customer interaction.
Point of Sale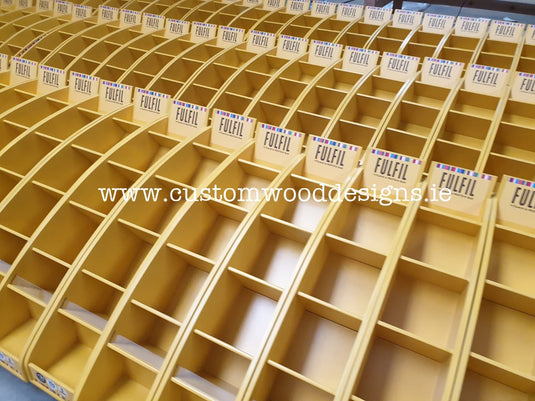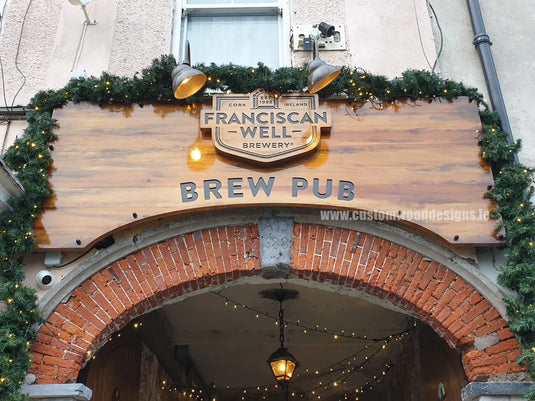 Signage
Signage: Custom Wood offers both large and small business signage, including business signs, parks and estates signs, and pavement signs. Our signs are designed to be durable and eye-catching, with custom branding options that allow you to showcase your brand's personality and style.
Signage
Trophies & Awards
Trophies & Awards: Custom Wood offers a variety of trophies and awards for businesses, schools, and organizations. Our trophies and awards are designed to be high-quality and customizable, with a variety of materials and design options to fit your needs.
Trophies & Awards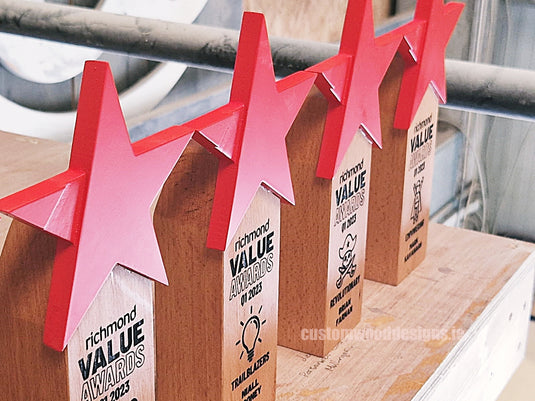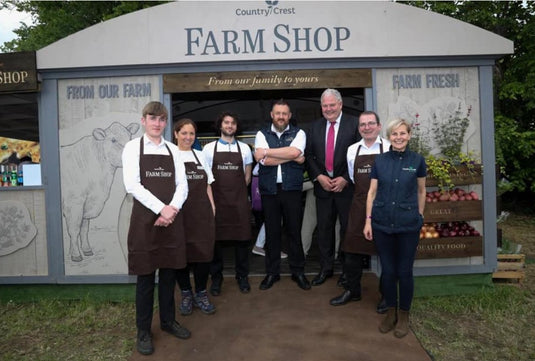 Retail & Expo
Retail and expo - two important areas where Custom Wood can help businesses create custom-branded displays and products. In the retail space, Custom Wood offers a variety of displays and signage options that can be tailored to fit your brand's unique style and personality, from countertop displays to large business signs. For expos and events, Custom Wood can provide custom-branded stands , signage, and displays that will make your brand stand out from the crowd. With a wide range of materials, design options, and customization capabilities, Custom Wood is your go-to partner for creating memorable and effective retail and expo displays.
Retail & Expo
Hospitality
Custom Wood offers a wide range of custom-branded products for the hospitality industry, including furniture, service and display items, and signage. Our team can help you create a personalized look that reflects your brand's unique style and personality. We're committed to providing exceptional customer service and support throughout the process. Choose Custom Wood to create a truly unique and memorable hospitality experience for your guests.
Hospitality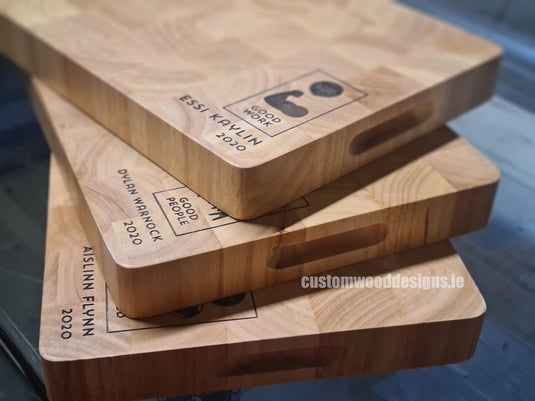 Contact Us
Please fill out the form below and we'll get back to you within 24 hours.