Custom Wood Designs: Crafting Exceptional Solutions for the Black Forge Inn
At Custom Wood Designs, we take great pride in our ability to provide exceptional custom-branded products tailored to the unique needs of our clients in the hospitality industry. Our partnership with the esteemed Black Forge Inn stands as a testament to our commitment to excellence and the successful resolution of their specific requirements.
Our first challenge was to create branded wood tables that would serve as both functional pieces and statement centerpieces within the restaurant. Understanding the importance of branding, we meticulously crafted tables that showcased the Black Forge Inn's logo and visual identity, providing a cohesive and elegant atmosphere for their patrons.
To further enhance the restaurant's image, we designed and produced handmade wooden menus that captured the essence of the Black Forge Inn. These menus not only displayed the extensive culinary offerings but also showcased the restaurant's branding, leaving a lasting impression on guests and reinforcing their exceptional dining experience.
One of the standout solutions we offered to the Black Forge Inn was our innovative Steak on the Stone Boards. Understanding their desire for an interactive dining experience, we carefully crafted these boards using specialized materials that minimized heat transfer. This ensured that the heat remained precisely where it belonged while guaranteeing the safety of both the staff and customers. The visually stunning presentation of steaks on these boards added an element of excitement and engagement to the dining process, further enhancing the Black Forge Inn's reputation for delivering unforgettable moments.
At Custom Wood Designs, we pride ourselves on our ability to provide tailored solutions to our clients. For the Black Forge Inn, we not only resolved their immediate needs for branded wood tables, handmade wooden menus, and Steak on the Stone Boards but also demonstrated our expertise in understanding the unique demands of the hospitality industry.
By partnering with Custom Wood Designs, the Black Forge Inn found a comprehensive solution that elevated their brand, enhanced their customers' experience, and showcased their commitment to exceptional service.
Whether you require customized solutions for branding, interactive dining experiences, or other unique challenges in the hospitality industry, Custom Wood Designs is here to transform your vision into reality. With our exceptional customer service and support, we are committed to delivering remarkable results that exceed your expectations.
Contact us today to explore our wide range of custom-branded products and discover how we can create exceptional solutions for your business.
Custom-Crafted Hot Stone Serving Boards
Unleash culinary excellence with our custom-crafted hot stone serving boards. Meticulously designed from stunning black wood and adorned with intricate laser engravings, these boards elevate your steak presentation to extraordinary heights. Elevate your restaurant and create unforgettable dining experiences with our exceptional serving boards.
Custom Ash Wood Tables with Personalized Logo Engravings
Elevate your space with our custom Ash wood tables, meticulously crafted to perfection. Add a personal touch with logo engravings. Worldwide shipping available.
For inquiries, contact us at info@customwooddesigns.ie or call 00353 1 2573871.
Black Stained Wooden Menus for Black Forge
Worldwide Shipping Available.
Enhance your dining experience with our black stained wooden menus. Crafted to perfection, these menus feature laser engraving and brass clips for a touch of elegance. With worldwide shipping, you can elevate your menu presentation no matter where you are. Contact us at info@customwooddesigns.ie or call 00353 1 2573871 to inquire and order."
Custom Wood Designs - Adding a Dash of Personality to Hospitality!"
To place an order for our custom-branded hospitality items, follow these simple steps:
Contact us: Reach out to us via email at info@customwooddesigns.ie or call us at 00353 1 2573871 to express your interest in ordering the branded hospitality items. Our friendly team will be ready to assist you.
Discuss your requirements: Share your specific requirements with our team. Let us know the type and quantity of branded items you need, such as tables, menus, or other customized products. Provide details on the desired branding, including logo placement, colors, and any specific design elements you want to incorporate.
Design and customization: Our talented team will work closely with you to create customized designs for your hospitality items. We can incorporate your branding elements, including logos, colors, and any specific artwork or text. We will provide design mockups for your review and make any necessary adjustments based on your feedback.
Quotation and order confirmation: Once the designs are finalized, we will provide you with a detailed quotation that includes the pricing for the customized hospitality items. Review the quotation carefully and confirm your order with us. We will provide you with the payment details and options.
Production and shipping: Once your order is confirmed and payment is received, our skilled craftsmen will begin the production process. We will carefully craft and customize your hospitality items according to the agreed-upon design specifications. Once completed, we will pack and ship the items to your specified location, ensuring safe and prompt delivery.
Enjoy your branded hospitality items: Upon receiving your order, inspect the items to ensure they meet your expectations. Whether it's custom-branded tables, menus, or other hospitality items, incorporate them into your establishment and let them showcase your brand identity and elevate the overall guest experience.
At Custom Wood Designs, we are committed to providing exceptional custom-branded products for the hospitality industry. Contact us today to start the process of creating unique and personalized items that will leave a lasting impression on your guests.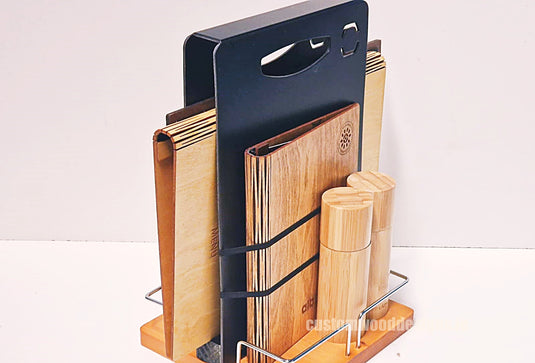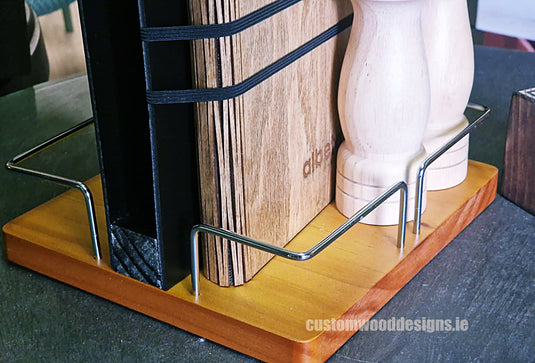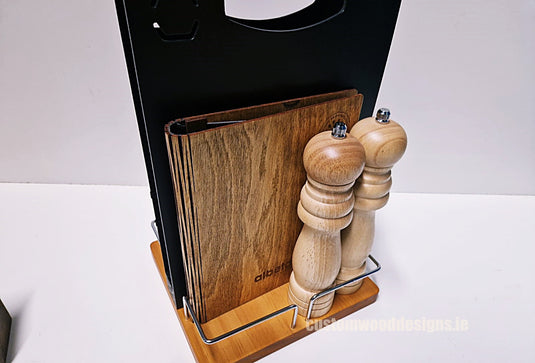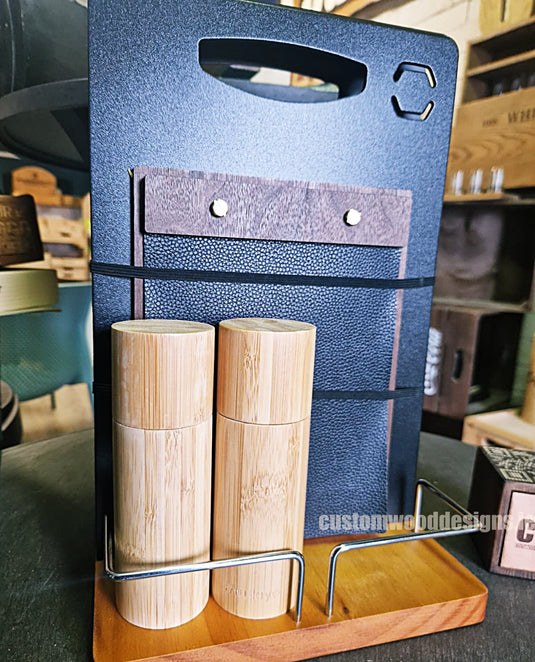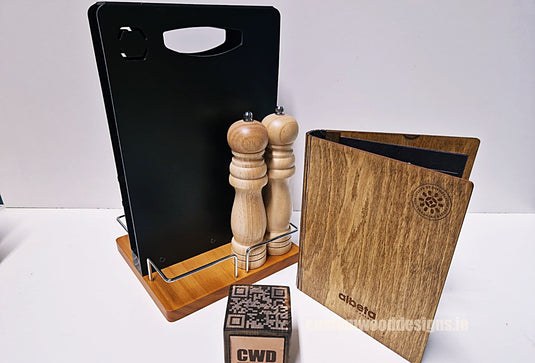 Contact Us
Please fill out the form below and we'll get back to you within 24 hours.