MDF Boxes
Wooden Boxes vs. MDF Boxes
When it comes to choosing between wooden boxes and MDF (Medium-Density Fiberboard) boxes, wooden boxes have a lot going for them. They offer a natural and authentic look that brings a touch of charm and sophistication to any packaging or storage solution. Wooden boxes are also more durable and sturdy, able to handle rough handling and transportation without easily getting damaged. Plus, they're better for the environment since they're made from renewable resources.
One of the great things about wooden boxes is the customization options they offer. You can easily engrave or brand them with your logo or design using techniques like laser engraving. This allows you to create a unique and branded packaging solution that perfectly represents your business.
Wooden boxes are incredibly versatile too. They can be used for packaging, storing valuable items, displaying products, or creating special gift sets. No matter your industry, whether it's retail, hospitality, or corporate gifting, wooden boxes add a natural warmth and appeal to your products.
And let's not forget about longevity. Wooden boxes are built to last. They can be used over and over again without losing their structural integrity or losing their attractive appearance.
While MDF boxes might be more affordable, wooden boxes offer numerous advantages in terms of their look, durability, customization options, and sustainability. At Custom Wood Designs, we specialize in creating high-quality wooden boxes that meet your specific needs. Our goal is to provide you with a premium packaging or storage solution that perfectly aligns with your brand's identity and values.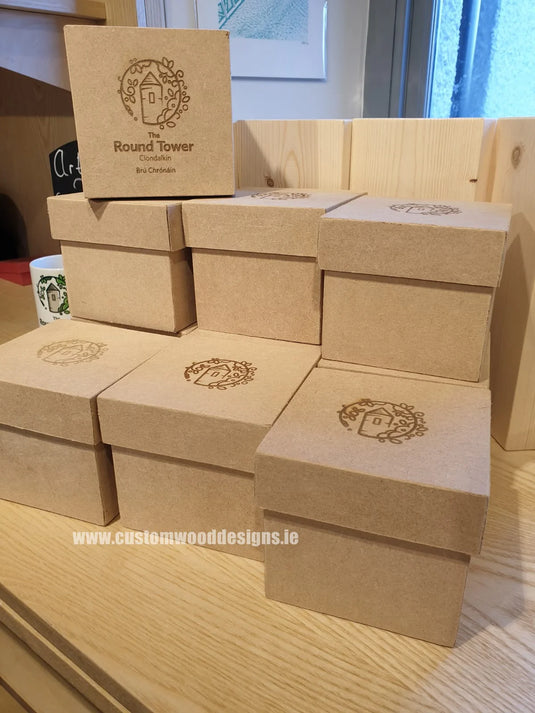 Round Tower Clondalkin
Packaging