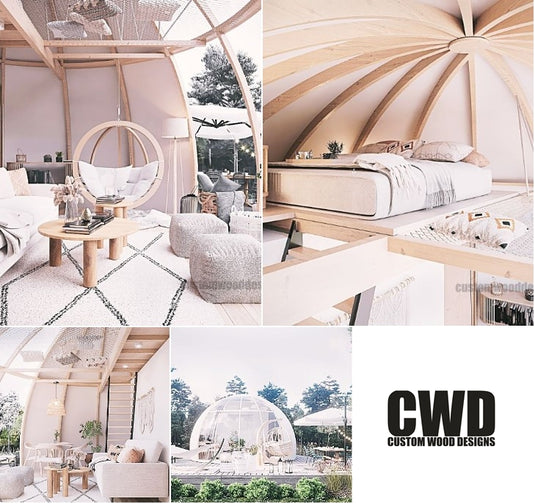 Discover Luxury in the Wild with the Arcadia Glamping Pod!
Experience the fusion of comfort and nature with our Arcadia Glamping Pod! Crafted with precision and insulated for optimal thermal regulation, it offers a unique and cozy retreat, perfect for boutique hotels, luxury campsites, or even as a tranquil home office. The pod is customizable, with options for including a kitchen and bathroom, and features an airy mezzanine. Reach out to Custom Wood Designs to transform your hospitality or personal space today!
Download Brochure
The Arcadia Glamping Pod - Your Answer to Luxury, Versatility, and Sustainability
Revolutionize Your Hospitality Business with the Arcadia Glamping Pod: The All-in-One, Eco-Friendly Solution
Transform Your Hospitality Offering with the Arcadia Glamping Pod: Customizable Comfort Meets Eco-Conscious Design
The Arcadia Glamping Pod from Custom Wood Designs addresses several key challenges faced by the hospitality industry:
Unique Accommodation Offering: The Glamping Pod provides a distinctive and luxurious accommodation option that can differentiate an establishment in a crowded market. It offers a novel experience that can attract new customers and delight returning guests.
Flexible Utilization: The Pod can be used for various purposes beyond accommodation, such as a distinctive dining space, a private spa area, or even a unique meeting room. This allows for greater flexibility in maximizing the use of available space.
Adaptable to Environment: The Pod can be installed in diverse environments, be it a rural setting, a seaside location, or even within an urban hotel's grounds, making it a versatile addition to any hospitality business.
Sustainable and Eco-Friendly: The Pod's construction method and materials are sustainable and eco-friendly, which aligns with the growing consumer demand for environmentally responsible hospitality options.
Customizability: The ability to customize the interior of the Pod allows businesses to align it with their brand aesthetics or to tailor it to specific customer needs.
Efficient Use of Space: The Pod's design, which includes a second-floor mezzanine, makes efficient use of vertical space, allowing businesses to offer spacious and comfortable accommodations even in areas where horizontal space may be limited.
Economic Solution: With a one-time investment, businesses can provide an upscale, luxurious experience to guests without the recurring costs associated with traditional hotel rooms. The five-year warranty also offers peace of mind regarding the structure's longevity.
These benefits make the Arcadia Glamping Pod an innovative solution for hospitality businesses looking to enhance their offerings and address the evolving demands of the market.
Revolutionize Your Hospitality Who Needs an Arcadia Glamping Pod?
Unleashing Potential Across Industries with Custom Wood Designs
Hospitality Business Owners: For hoteliers, resort owners, or campground operators, the Arcadia Glamping Pod offers a unique accommodation option that can set them apart from the competition. For instance, a boutique hotel could install these Pods in their grounds, offering guests a private, luxurious retreat away from the main building. This can attract a new segment of customers who are looking for unique experiences, leading to increased bookings and revenue.
Event Planners and Venues: If you're an event planner or own a venue, using the Arcadia Glamping Pod as pop-up accommodation for events or as a unique VIP area can add a touch of luxury and exclusivity to your offerings. For example, a wedding venue could offer the Pod as a bridal suite, providing a unique selling point that can attract more bookings.
Business Owners: For businesses looking for unique office solutions, the Pod can be used as a private, standalone office space. For example, a tech startup could use the Pod as a distinctive and inspiring space for brainstorming sessions or important meetings, potentially leading to more innovative ideas and increased productivity.
Private Individuals: The Arcadia Glamping Pod isn't just for businesses. Private individuals who have space in their backyard could use the Pod as a guest house, a home office, or even a personal retreat. This could add value to their property and enhance their lifestyle.
Educational Institutions: Schools or colleges could use the Pod as a unique learning environment, such as an outdoor classroom or a study pod. This could enhance students' learning experience and potentially attract more enrollments.
In all these scenarios, the Arcadia Glamping Pod not only offers a unique, customizable, and high-quality solution, but also helps businesses and individuals differentiate themselves, attract more customers or enhance their lifestyle, and potentially increase their income or property value.
From Campfires to Chandeliers: Elevate Your Outdoor Experience with the Arcadia Glamping Pod
Introducing the Arcadia Glamping Pod by Custom Wood Designs:
Unique, Customizable Solution for the Hospitality Industry
The Arcadia Glamping Pod, with a sizable area of 28m2 and an extra 8m2 on the second floor, is a high-quality and versatile product. It is constructed of glued arches and OSB boards, and insulated with VAPreflex material for optimal thermal regulation. The exterior includes an entrance door and a large, transparent window that spans approximately 12m2.
Inside, the pod is lined with a cotton-polyester fabric that features the "Cleanaboo" technology for easy cleaning. The pod can be equipped with a bathroom and kitchen, with the specific equipment and décor to be determined by the buyer. The second floor is accessed via a ladder and is a netted mezzanine area.
An air conditioning unit with both heating and cooling functions can be installed at the buyer's discretion. Similarly, connections for electricity, water, and gas are the buyer's responsibility.
The production time for the pod ranges from 8-12 weeks after receipt of a 90% advance payment. The platform requires 100% prepayment. The structure comes with a five-year warranty.
This is a fantastic offering for those in the hospitality industry looking to provide unique accommodations to their guests.
If you're interested in the Arcadia Glamping Pod or any other products by Custom Wood Designs, you can get in touch by email at info@customwooddesigns.ie, or by phone at 0353 1 257 3871.
Who says you can't put a chandelier in a Pod ?
Journey to Luxury: Your Step-by-Step Guide to Ordering the Arcadia Glamping Pod from Custom Wood Designs
Initial Inquiry: Reach out to us via email at info@customwooddesigns.ie or by phone at 0353 1 257 3871. During this initial contact, feel free to ask any questions you may have, and provide us with some information about your needs.
Consultation: We'll arrange a consultation, either in-person or virtually, to discuss your specific requirements in detail. This is the perfect time to discuss customizations, location, and any other specifics related to your Pod.
Quotation and Design: Based on your requirements, we will provide you with a detailed quotation and, if needed, a customized design plan for your Arcadia Glamping Pod.
Payment: Once you're happy with the details, we'll require a 90% advance payment to begin production. The platform requires 100% prepayment.
Production: We'll begin creating your Glamping Pod, a process that takes between 8-12 weeks. We'll keep you updated on the progress throughout this time.
Delivery and Installation: Once your Glamping Pod is ready, we'll coordinate delivery and installation with you, ensuring a smooth and hassle-free process.
After-Sales Support: Our relationship doesn't end once your Pod is installed. We're here to provide ongoing support and answer any questions you might have.
Start your glamping journey today with the Arcadia Glamping Pod from Custom Wood Designs, and elevate your outdoor experience to new heights of luxury and comfort!
At Custom Wood Designs
Furnishings
We take great pride in offering an extensive range of high-quality furniture that's specifically designed for the hospitality industry. Our furniture is not only functional, but also aesthetically pleasing, providing a welcoming and comfortable environment for your guests.
We understand that furniture plays a crucial role in creating a memorable guest experience. Whether you're looking for classic pieces, modern designs, or custom creations, our team of experts is here to help bring your vision to life.
Our furniture is crafted with exceptional attention to detail and using only the highest quality materials. We source our materials from trusted suppliers to ensure that every piece of furniture is durable, long-lasting, and able to withstand the demands of a busy hospitality environment.
Our team of experts will work with you to create a tailored solution that meets your unique needs and maximizes the functionality of your space.
At our store, we're committed to providing exceptional customer service and support. We understand that every project is unique, which is why we take the time to listen to your needs and provide personalized recommendations. Whether you're a small restaurant or a large hotel chain, we're here to help you create a welcoming and memorable guest experience with our custom-branded furniture.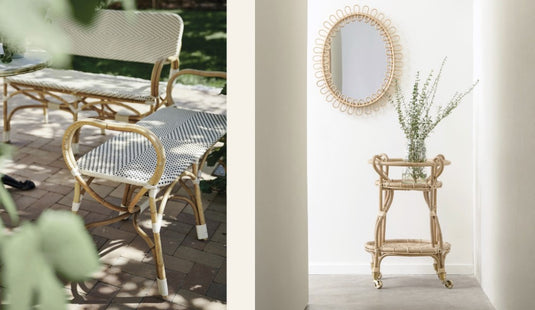 Transform Your Space with Our Outdoor and Indoor Furniture Collection in Ireland
Our high-quality outdoor and indoor furniture collection, available in custom wood designs, is now available to order in Ireland. Crafted for durability and style, our range includes seating, tables, and storage solutions to elevate any space.
Hospitality furniture from Custom Wood Designs
Custom Wood Designs ,are proud to collaborate with renowned designer furniture manufacturers as approved retailers. Through our strong partnerships, we have gained exclusive access to the exceptional creations of these esteemed brands. As approved retailers, we offer our customers the opportunity to experience and acquire the finest designer furniture pieces available. Our commitment to quality and authenticity is reflected in our curated selection of furniture, showcasing the craftsmanship and design excellence of these prestigious manufacturers. With our expertise and close collaboration, we ensure that customers receive genuine, high-end furniture that elevates their spaces and exceeds their expectations. We also cater to custom-made furniture projects, ensuring that your unique vision becomes a reality. Our team of experts works closely with you, providing personalized guidance and utilizing their expertise to bring your custom designs to life
To order info@customwooddesigns.ie
Furnishings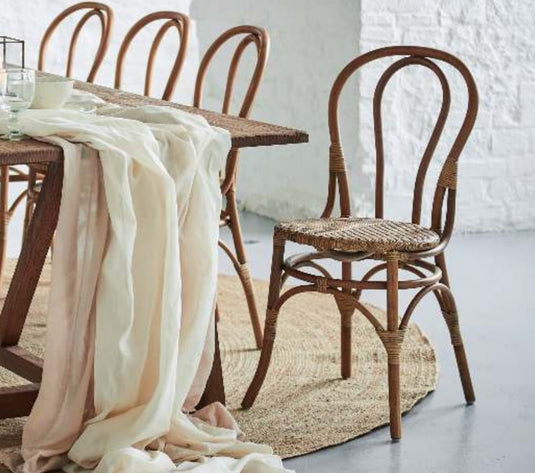 Order Now
New in Outdoor Range
Contact Us
Please fill out the form below and we'll get back to you within 24 hours.