Some benefits of using a bamboo/wood handle umbrella: 
Aesthetic: Adds a natural, elegant touch.
Eco-Friendly: Bamboo is sustainable and both materials are biodegradable.
Durable: Strong and long-lasting, with natural water resistance.
Comfort: Ergonomic and warm to the touch, unlike metal.
Less Plastic: Reduces reliance on synthetic materials.
Unique: Each handle can have its own distinctive character.
Ready to Buy
Bottle Boxes / Upload Logo
Ready to Buy
Wicker Baskets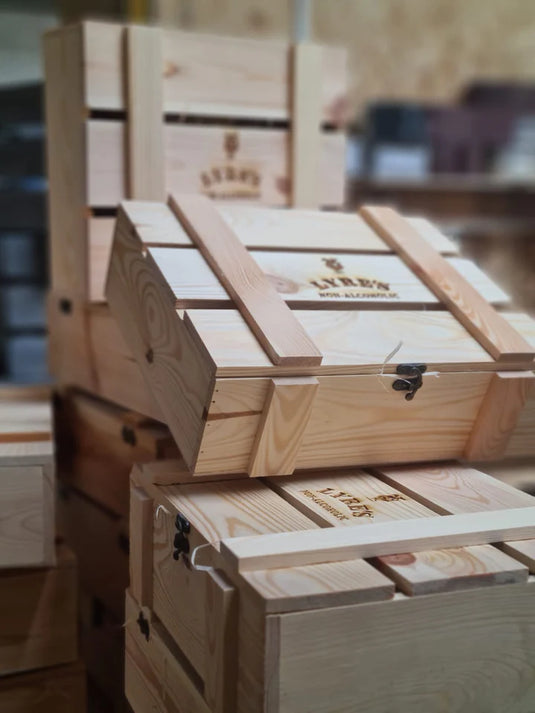 Boxes Crates Baskets
Custom Wood offers a variety of boxes, crates, bottle boxes, and baskets that can be customized to fit your unique needs. Our high-quality products are designed to be both functional and visually appealing, with a range of customization options available to help you create a cohesive and personalized look for your brand.
Whether you need a durable crate for shipping and storage, a custom-branded bottle box for your wine or whiskey business, or a rustic wicker basket for a unique touch, Custom Wood has you covered. Our team of experts can work with you to design a product that meets your specific needs and helps your brand stand out.
At Custom Wood, we're committed to providing exceptional customer service and support throughout the process of designing and producing your custom-branded products. Choose Custom Wood for your boxes, crates, bottle boxes, and baskets, and let us help you create a memorable and effective brand experience for your customers.
Bottle Crates Baskets
Contact Us
Please fill out the form below and we'll get back to you within 24 hours.